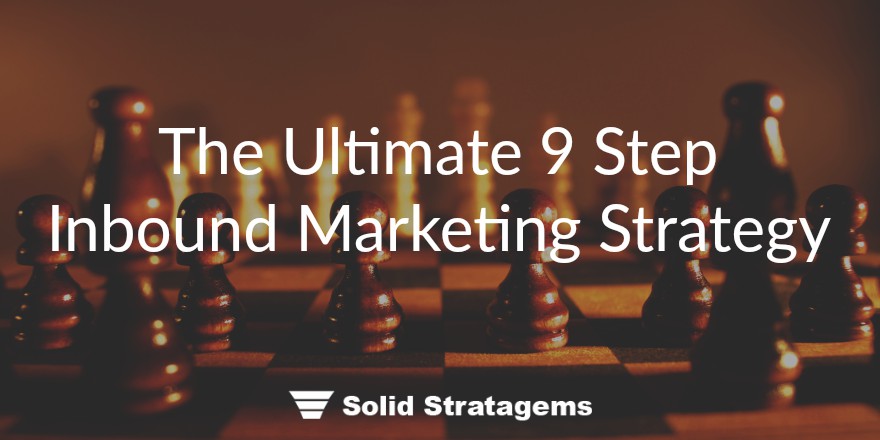 The Ultimate Inbound Marketing Strategy is built around the nine-part Inbound Marketing Funnel or Pipeline. Companies that optimize all 9 segments will have growing pains! Companies that completely fail on any single segment of the pipeline will find inbound sales come to a stop. This strategy allows brands that work in local markets to add anywhere from hundreds of thousands to multi-millions in internet sales. Let's start by taking a look at the funnel.
The Inbound Marketing Funnel

The funnel is simply a visual graphic that tells a familiar but very important story. The story has nine simple chapters. We'll dig a little deeper but first, let's review the story.
Chapter 1) Once upon a time there was a place.
Chapter 2) In the place there were people looking for just the perfect thing.
Chapter 3) The people decided to go to a mysterious world wide web to search for the perfect thing.
Chapter 4) The search yielded A LOT of potential results. So the people just looked at the top results.
Chapter 5) The people opened the most intriguing result with a click.
Chapter 6) They REALLY liked what they saw. They knew it would come at a cost. To their surprise it had a price tag.
Chapter 7) The people looked at the price tag. The price tag made the people happy. They could buy the perfect thing in small, medium or large. Each size had a simple price. They only needed to pay for what they would use.
Chapter 8) Many of the people decided they wanted to buy the perfect thing. They asked how they could order the perfect thing. They were happy to find that there wasn't any long forms or long contracts. In less than a minute the people had their very own perfect thing.
Chapter 9) The people loved the perfect thing. They loved it so much they bought more and more. In fact, they loved it so much they told everyone about the perfect thing. Now everyone enjoyed the perfect thing. And they lived happily ever after.
It's a happy story. Unfortunately, a lot of brands don't have a story like this. BUT, they can! They just need to be committed to continually working on each of the nine parts. Now let's take a closer look at those parts.
#1) Location(s)
Choosing the right market can have a huge impact on growth and marketing returns. Companies in the pre-startup stage, expansion stage or companies considering relocation should take advantage of location research and analysis. The following data should be considered:
Total Search Volume
Search Value
Total Search Value
Competition Quantity
Competition Strength
#2) Campaigns (Products/Services)
We define campaigns as products or services that are being proactively marketed to a target audience. Thorough market and keyword research help companies optimize and prioritize existing campaigns (products/services) and identify opportunities for new campaigns (products/services). The following data should be considered (same as locations):
Total Search Volume

Search Value

Total Search Value

Competition Quantity

Competition Strength
#3 Presence
All types of digital media should be optimized for higher rankings, including:
Websites, webpages and blog posts.
Local Search Profiles (e.g. Google Map Results)
Review Sites (e.g. Yelp)
Social Media (e.g. Facebook)
#4) Rankings (Ranking Power)
Higher search engine rankings are extremely helpful and allow companies to reap the low-hanging fruit. To outrank the competition beat them on three things (content is still king; ) See how this works »
#5) Click Through Rate Optimization (CTRO)
Some search engine results get skipped right over, others can be almost irresistible. Increasing your web pages' click through rates is one of the quickest ways to increase traffic. Improve the following to increase your CTR:
Titles
Descriptions
URL's
Reviews
Percentage of Search Engine Results Page (SERP) owned.
Rankings (this is HUGE!!)
#6) Landing Page Optimization (LPO)
Through data we've learned that the first impression searchers get when they land on your page is very difficult to change. This can either be a really good thing or really bad. The landing page is the best opportunity to make a good impression, build value and generate interest. The goal here isn't "Let's be average". The goal is "Let's be the obvious choice". There is a lot that goes into becoming "The Authority" or "The Obvious Choice". Some of the big ones include:
Site Speed
Site Responsiveness
Design
Testimonials
Awards and Recognitions
LESS IS MORE!!
DO NOT MAKE ME THINK!!
#7) Pricing Page Optimization (PPO)
Pricing pages are great pages to A/B test and provide lots of opportunities to communicate value, transparency, and flexibility. Every industry is different but the most optimized pricing pages are:
Transparent
Well Defined
Simple
Flexible (Think Packages)
LESS IS MORE!!
DON'T MAKE ME THINK!!
#8) Sign Up Optimization (SUO)
It's depressing how many potential buyers choose they want to make a purchase but don't complete the sign-up process. When you're done optimizing the sign-up process, there won't be a process. Write the following on a stone tablet (it's not gonna change; )
Remind them that signing up is quick, easy, and risk-free.
LESS IS MORE!!
DON'T MAKE ME THINK!!
#9) Total Customer Value (TCV)
Nothing is more important than winning loyal customers and raving fans, NOTHING!! Do this and you will GROW. Don't, you will plateau. A few tips:
Be and remain committed to being the very best in the business.
Take advantage of the fact that mistakes are one of the best opportunities to win loyal customers.
Take advantage of the fact that successes are one of the best opportunities to get good reviews.
Make it easy for your loyal customers to become loyal fans (social media strategy).
Email marketing to win back old customers and up-sell existing customers.
Bonus #10) Profit Margins (PM)
Improving profit margins won't increase internet sales (so it doesn't really belong in the funnel). BUT! it's worth noting that if you optimized steps 1 -9 you will have MUCH GREATER internet sales. And, greater sales almost always results in better profit margins. This is an unintended benefit of optimizing the inbound sales funnel. And what will you use your extra profits for? Inbound Marketing of course ; )