Some marketing strategies are brilliant for one brand, yet absolute fails for another.
What makes the difference?
Audience.
Marketing strategies should be built with the target audience in mind. The marketing strategy that is brilliant for a spa (a local consumer audience) isn't going to work too well for an enterprise level Customer Relationship Management software (a national/international corporate audience).
There are four steps to choosing the marketing strategy that's best for your brand.
Step #1) Know The Four Quadrants of Inbound Marketing
The four quadrants:
Q1: A Local Consumer Audience
Q2: A Broad (national/international) Consumer Audience
Q3: A Local Corporate Audience
Q4: A Broad Corporate Audience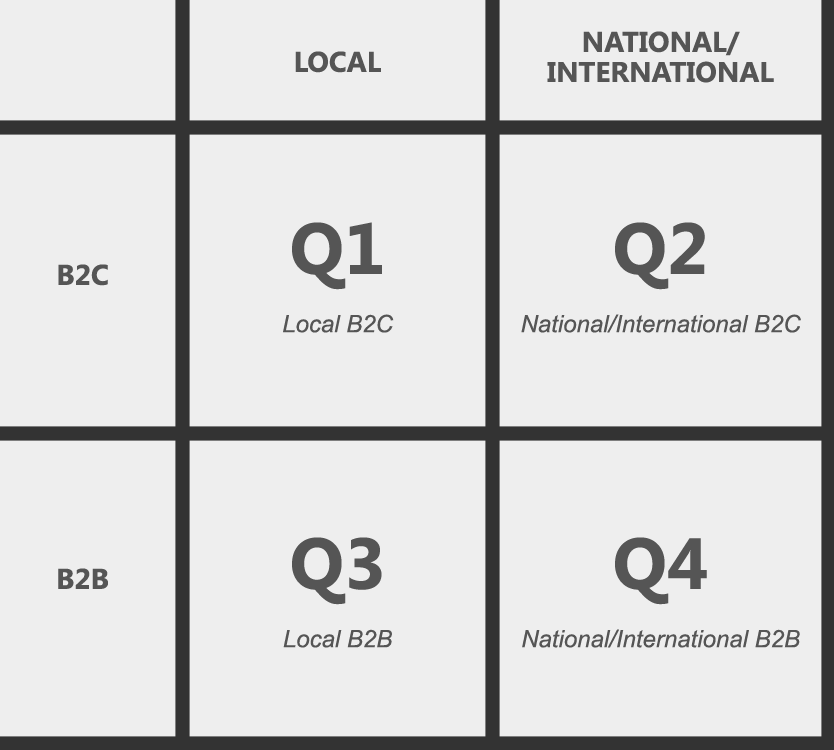 Inbound Marketing Quadrant #1 – B2C Brands with a Local Audience
Quadrant 1 Businesses can be broken into two subcategories – Service Area Businesses and Brick and Mortar Businesses.
Quadrant 1a – B2C Service Area Businesses
Service Area Businesses (SABs) are businesses that serve consumers at their place of residence and therefore includes many home services:
Pest Control
HVAC
Plumbing
Electrical
Senior Care
etc.
Quadrant 1b – B2C Brick and Morter Businesses
Brick and Mortar Businesses (B&M) are businesses that have a physical location that consumers can visit and therefore includes many retail shops and health services:
Doctors
Dentists
Spas
Mechanics
Gas Stations
Drug Stores
Clothing Shops
Home Goods Shops
etc.
Inbound Marketing Quadrant #2 Businesses – National/International B2C
Quadrant 2 businesses usually sell goods (but sometimes services) that are deliverable and don't require a home visit by the brand or a visit to a shop by the consumer:
Electronics
Books
Movies
Music
etc.
Inbound Marketing Quadrant #3 Businesses – Local B2B
Quadrant 3 businesses are business/commercial services (but sometimes products) that usually require the brand to have a local presence (a lot of times due to licensing and legal regulations). Like quadrant 1 brands, quadrant 3 brands include both Service Area Businesses and Brick & Mortar Businesses.
Attorneys
Accountants
Commercial Insurance Agents
Commercial Real Estate Agents
etc.
Inbound Marketing Quadrant #4 Businesses – National/International B2B
Quadrant 4 businesses do ESPECIALLY POOR with marketing strategies meant for any of the other quadrants, but these same businesses have some of the highest possible returns when implementing marketing strategies optimized for a quadrant 4 audience:
Software
Marketing Services
Manufacturers
Distributors/Suppliers
etc.
Step #2) Further Define Your Audience
Now that you know your quadrant, time to further define your audience.
For B2C you should define:
Target Age
Target Gender
Target Education Level
Target Interests
Target Income Level
etc.
For B2B brands you should define:
Industry
Position/Title
Specific Companies
Interests/Groups/Associations/Memberships
Company Size
etc.
Step #3) Know Your Numbers
With a defined target audience, it's time to crunch some numbers. Here's what you need to know:
The pricing of the product/service that you will be marketing.
The Lifetime value (in revenue) of your target consumer/corporation/client.
The profit margin of said revenue.
Total lifetime profit of a purchaser.
With the first three numbers, you'll be able to project the fourth, the total lifetime profits of acquiring a customer/client.
Sometimes this is a less than a hundred dollars.
Other times this can be tens of thousands or more.
You've got to know your number.
There is one final number: The cost of acquiring a new customer/client.
If your total lifetime profit is $100, you've got to be able to acquire new customers for less than $100.
IF YOU CAN'T DO THIS, you either have underpriced your product/service or you're marketing strategy isn't up to par.
IF YOU CAN, especially if you can generate $3.00 or more per $1.00 you spend; you've got something, and should focus on building an operations process that can scale. In the stock market – people take on quite a bit of risk hoping to turn $1.00 into $1.10 – so if you can turn $1.00 into much more than $1.10 (annually) – you know where you should invest.
Step #4) Get Started
Now that you've defined your target audience and know how much you can spend per client acquisition – get started on the marketing strategy that works best for your brand!
Learn more about the best local (Q1 and Q3) inbound marketing plan »
View our local inbound marketing program and pricing »
Learn more about our national B2B (Q4) inbound marketing plan »
View our national B2B marketing program and pricing »