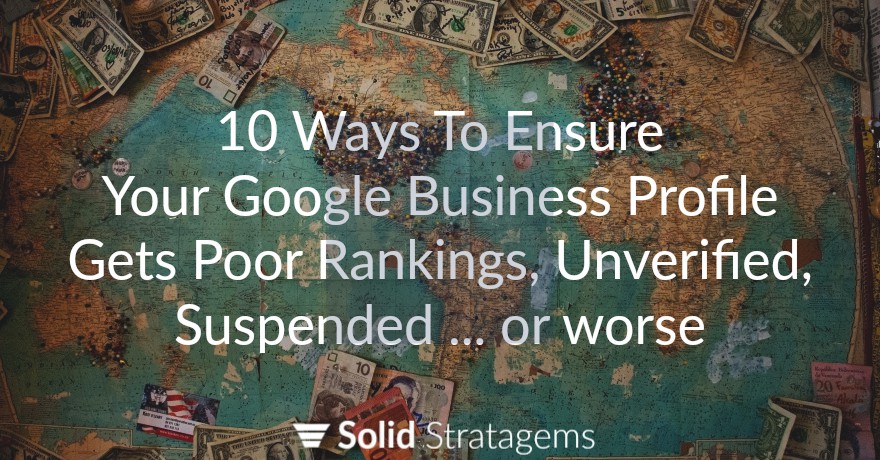 A lot of business can come to your local business through your Google Business Profile. That business mostly comes from popping up on Google Search or Google Maps.  I've seen business owners unknowingly break Google's guidelines for local businesses and get hit with a penalty.
It's not fun.
There are five basic penalties:
Poor rankings (an algorithmic penalty)
Unverified
Suspended
Permanently Removed
Reviews Removed
Sometimes the penalty can be fixed quickly. Other times, the penalty can stick around for 12 months, or even worse, permanently.
Here's 10 things you can do that will get your Google Business Profile poor rankings, unverified, suspended, permanently removed, or worse.
#1 Changes to the APUNCH
You likely already know the importance of having the NAP (name, address and phone number) correct in your Google Business Profile. I've changed the NAP acronym to APUNCH. This is due to the importance of the Google Business Profile destination URL (U), categories (C), and hours (H). Changing these items can result in a drop in rankings.
It's not really a penalty.
It's part of the algorithm.
Google knows people don't want to be sent to an unestablished business, the wrong address, or during the wrong hours etc. So the algorithm favors established businesses with consistent APUNCH.
Likely Penalty: Drop in rankings for as much as 12 months.
#2 Creating a New Profile When Moving
When your business moves you should keep your Google Business Profile! Just change the address. You might be thinking, "But, you said not to change my business address". True, I don't want you to. I want you to avoid moving at all costs! But changing your business address is not as bad as starting over, your rankings will bounce back stronger after the 12-month suppression, and you get to keep your reviews.
Likely Penalty: Start in the back of the line and depressed rankings for 12 months.
#3 Ignoring Unresolved Updates
Google is now adding alerts in Google My Business of unresolved updates that need the business administrators review. They are also sending emails to the owner of the page to review the pending updates. I haven't seen the penalty of ignoring such the emails, but based on watch the algorithm for years I'm going to guess Google won't favor businesses that aren't keeping their profiles up to date or responding to requests from Google
Possible Penalty: Algorithm penalty until needed updates are reviewed and resolved.
#4 Keyword Stuffing Your Business Name
It's against Google's guidelines to include business locations, taglines or anything other than the business name in the business name field of your business profile.
This gives businesses with an optimized business name an advantage over unoptimized business names. For example, if you're in the pest control industry, the name "Orkin Pest Control" would be better than "Orkin Exterminators", "Orkin Exterminating" or just plain old' "Orkin".
Of course, you have probably already chosen a business name. So be smart and be sure the name you enter in your Google profile matches the name that is displayed on your website and other online profiles.
Possible Penalty: First, your profile can become temporarily suspended. Second, upon changing the business name to the correct name, your profile can have suppressed rankings for 12 months.
#5 Creating Multiple Pages For The Same Address or Business
In the past, creating multiple profiles for the same business or address caused all kinds of havoc. Sometimes profiles even became combined and then neither profile would rank. Pretty messy.
It's not quite as bad as it used to be (your profiles probably won't be combined automatically), but having multiple profiles (especially multiple verified profiles) still causes trouble.
Likely Penalty: Profile becomes unverified.
Possible Penalty: Temporarily suspended or suppressed rankings.
#6 Using A Broken or Redirected URL
I analyzed a company that had multiple locations. Each location had it's own landing page on the website. These landing pages were used in the URL fields of the Google profiles of each location. Then the company changed the URLs of some of the locations webpages. Without updating the URLs in the business profiles!?!
Not good.
Google doesn't want to rank broken links.
The profiles weren't suspended but they were buried in the local rankings.
Be sure to use a working and active URL. Not URLs that are broken or redirect.
Possible Penalties: Possible suspension and ranking suppression for up to 12 months after fixed.
#7 Revealing An Address That Customers Don't Do Business At
Google considers sending a potential customer to an address where they can't do business worse than sending them to a missing page.
Possible Penalty: Suspension or permanently deleted.
#8 Fake or Virtual Business Locations
Many local businesses know how valuable it is to rank at the top of search engines for a city in which they do business. This has caused some local businesses to get carried away and set up virtual addresses in all the cities or suburbs they do business in. This goes against Google's guidelines. If you want to rank on Google Maps for a given city you should have actual legit office space. This can be home or commercial office space, but it can't be P.O. Boxes, UPS Boxes, or even virtual office space.
Likely Penalty: Suppressed rankings.
Possible Penalty: Profile suspended or even deleted.
#9 Guilty By Association
There are three basic ways you can be guilty by association:
Your address is associated with fake/virtual addresses:  For example, you make have actual physical office space at a local Regus that sells a lot of virtual office space. Your address may get penalized along with the virtual addresses. If this happens to you contact me. I'd love a good reason to contact Google and see if this can be resolved.
Your industry is associated with a spammy industry: Have you ever used Google to hire a locksmith? Talk about a shady industry. I've heard of, but haven't seen, business profiles getting suspended along with others in their market just because the industry was so spammy. Just like above – If this happens to you contact me. I'd love a good reason to contact Google and see if this can be resolved.
The owner/managers of your Google profile have a bunch of spammy profiles in their account: This is just another good reason to be careful about who you make an owner or manager of your business profile.
Possible Penalties: Anywhere from suppressed rankings to having your profile deleted.
#10 Manipulating Your Reviews and Ratings
In addition to displaying genuine businesses, Google wants to display genuine reviews. In no way should businesses manipulate their reviews. Here are the four common ways you can get penalized for manipulating reviews:
Getting reviews from friends, family or employees, rather than consumers.
Paying a person or company to leave reviews.
Offering discounts to customers/clients for giving a review.
Getting reviews from customers/clients in person (at their home with a company device) or on-site (at your place of business).
Possible Penalties: Reviews not displaying on Google search or on your business profile.
Questions and Solutions
Have a question about your Google Business Profile? Or have are you looking for the best solution to one of the above penalties? Feel free to reach out. I'd be happy to take a look at your profile.