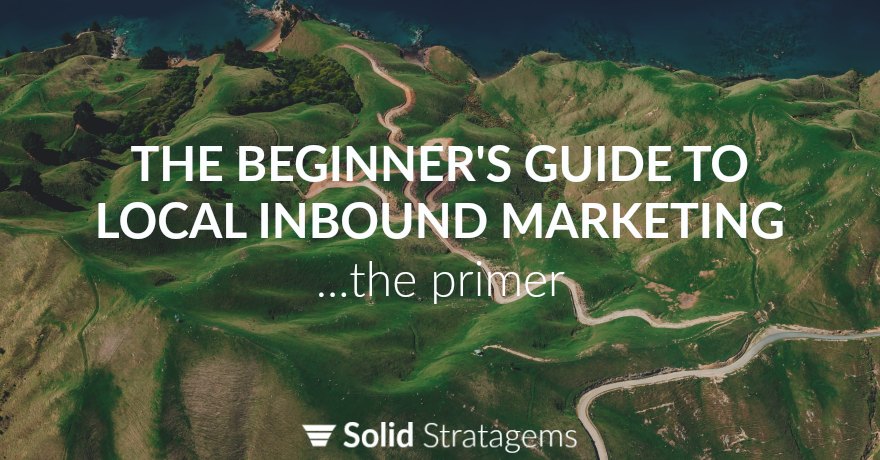 Introduction: Welcome to our regularly updated Local Inbound Marketing Guide! The purpose of this guide is to provide a basic overview of local inbound marketing concepts and what local brands should and shouldn't do to begin their inbound marketing success.
Sections of The Inbound Marketing Guide
This guide covers the following:
The Fundamentals of Growth
The Inbound Advantage: The Hands Down Best Way To Grow Profits
Factors That Can Enhance The Inbound Advantage
What Brands Wish They Knew Before They Began Their Local Business
The Avenues of Inbound Marketing
How Search Engines Work
Inbound Marketing Objectives
Inbound Marketing KPIs
The Inbound Marketing Sales Funnel…or The Customer Journey
What You Should Not Do
What You Need To Do
What Clients of Solid Stratagems Receive
What To Expect
What Solid Stratagems Needs From You
Stay Connected
1. The Fundamentals of Growth
Lots of companies have a great marketing plan but few truly value the rules of strong sustainable growth:
Assume You're Wrong: Outbound focused businesses try to create markets. Inbound focused businesses are created by markets. Assume you're wrong, your competitors are wrong and the whole industry is wrong. Let the market tell you what's right and the market will reward you accordingly.
Be A Disruption: Dare to be the first to do something the market wants but the industry isn't providing. Be an industry leader. Don't blend in. Stick out. Be memorable. Better yet, make your brand unforgettable.
Be The Very Best: Have an intense commitment to being the very best. Be sure your brand provides the best experience possible, one that is worth sharing and talking about.
Build A Scalable Model: Don't create self-imposed limits or bottle neck your growth.
Create An Optimized Pricing Structure: Autonomy is one of the strongest psychological needs. Use that fact to your advantage.
Invest in Growth: Invest 10% of your inbound revenue in growing your inbound revenue. Remember, "If you will live like no one else, later you can live like no one else." – Dave Ramsey
Value Your Reputation Above All Else: This is the #1 most important thing you can do. DO NOT NEGLECT THIS.
For more about the fundamentals of basics read Rules For Strong Sustainable Growth »
2. The Inbound Advantage: The Hands Down Best Way To Grow Profits
If you'd like to grow your company profits by ten times current profits it won't be done by lowering costs or raising prices. It can, however, be done by winning more customers. For most businesses, how you choose to win these customers will have a dramatic effect on your brands reputation, your employee satisfaction, your bottom line, and your personal sanity.
Companies that leverage the power of inbound marketing gain a HUGE advantage over the competition. It's almost unfair. A few of my favorite advantages of inbound marketing include:
More Valuable Customers: Inbound customers are MUCH MORE VALUABLE than outbound customers. Companies that make inbound marketing a focus get the valuable "low hanging fruit" forcing competitors to fight over the less valuable "high hanging fruit".
Competitors Market For You: Competitors outbound marketing drives inbound traffic to your website.
A Much Better Return On Investment (ROI): Inbound marketing not only gives a better ROI, it's a much better ROI.
Great Returns In Any Economy: Inbound marketing works very well in both a good and bad economy.
The "Salescomputer" Benefit: Your website becomes a salesperson that doesn't eat, drink or get sick and never sleeps.
Build A Stronger Brand: Inbound customers are happier customers, give better reviews, and are much more fun to serve (which raises employee satisfaction and personal sanity).
Inbound isn't going away: The inbound advantage has worked for decades and the internet has enhanced the inbound advantage. This isn't about to change.
There are dozens of benefits of inbound marketing. Check out our list of Benefits of Inbound Marketing »
3. Factors That Can Enhance The Inbound Advantage
There are a handful of factors that can enhance the benefits of inbound marketing. If any of these apply to your company, inbound is a must. If more than one apply, count yourself very lucky. Here are the biggest:
Local Business: Local businesses benefit even more from inbound marketing as consumers and businesses are very quick to use local search engine results to find local businesses.
Located Within A Metro's Principal City: If your a local business and located in the principal city of a metro (especially a larger metro) it's even better. Not only will consumers within the principal city search for brands like yours but also a lot of consumers from the surrounding suburbs will search for companies in the principal city rather than searching for companies in their suburb.
Customer Radius or Service Area: Some businesses can benefit from the fact that their service area is much larger. If your business serves consumers outside of the city you're located in you can take advantage of this fact by marketing to each city in your service area.
Opportunity Score: Opportunity score is the total search value in a market divided by the competition grade in the market. Some products and services have much higher potential (opportunity score) than others. If your considering a startup or expansion of locations, products or services be sure to identify which markets will bring the most return on investment.
The Viral Factor: Some businesses, like attractions or events naturally have a big viral factor (i.e. sharable). Other businesses, like skilled trade businesses, have almost no viral factor. Brands should do their very best at creating sharable content with a high viral factor. If your business has a high viral factor be sure to leverage your inbound efforts with social media. If your business has almost no viral factor (e.g. skilled trades i.e. plumbing, electrical etc.) don't over invest in or over prioritize social media (except for share and save promotions).
4. Things That Would Have Been REALLY Nice To Know Before You Started Your Local Business …but at least you'll be able to tell the next guy
This is essentially 8 ways you can optimize your local business before you start it. You probably know several of these by now, and it's always better late than never. For more details about each item read What You Need To Know About SEO Before You Start A Local Business.
Your Primary Google My Business Category
Your Million Dollar Word/Phrase
How To Optimize Business Name
How To Optimize Your Domain Name
How To Optimize Social Profile Names
How To Optimize Your Address
How To Optimize Your Phone Number
How To Optimize Your Site Structure/Permalinks
5. Inbound Marketing Channels
The great majority of inbound sales come through search engines' organic results, sponsored ads, or local results. These three avenues should be the priority focus of any inbound marketing effort. If your company has a large enough marketing budget consider a remarketing campaign to target consumers that have already visited your website through one of the inbound avenues.
Organic Search: Organic search is the biggest avenue of inbound marketing. Be sure your content is your markets best, is enhanced at least annually, is shared on your social profiles, and is optimized to rank high in organic search. If you're using the Genesis Framework for WordPress you can read more about optimizing your content for search engines here.
Local Search: Local search (think Google Map results) is a HUGE AVENUE of inbound marketing for local businesses.
Review Sites: Consumers also check reviews on sites like Yelp, Superpages, City Search etc.
Paid Ads: Paid ads (e.g. Adwords) are a unique inbound avenue with pluses and minuses. On the negative side, paid ads attract less traffic than organic search and result in a lower ROI. On the positive side, paid ads are quick, can reach a vast variety of searches, provide invaluable data, and (especially when optimized properly) provides returns far superior to outbound marketing.
Remarketing: Remarketing is a type of paid advertising but ads can be targeted to those who have visited your site through inbound avenues. It's kind of like an outbound effort that targets previous inbound website traffic and results in valuable inbound sales.
Email Marketing: Another outbound effort that can be used to target your inbound buyers and potential buyers.
6. How The Best Search Engines Choose Which Results To Rank Highest
Google built a multi-billion dollar empire by doing one thing better than anyone else – providing the best search results possible.
How did they do it?
Simple.
They treated webpages and prioritized rankings the same way a hiring manager would choose to prioritize candidates for a job.
If you were a hiring manager who would you choose as your top candidate – someone who had a history of being less consistent, lower quality, and less experience? Or the person who had been the most consistent, at the highest level of quality, for the longest period of time?
Of all the hundreds of variables in the modern algorithm – it boils down to just this – Google wants to rank webpages that have consistently provided high-quality content for the longest period of time. The product of a webpages consistence, quality and age result in the webpages power to rank or authority.
Read more about How Search Engines Determine Rankings»
7. Inbound Marketing Objectives
The challenge and strategy for those who are serious about growth is to optimize segments of the inbound marketing and sales pipeline to double your Inbound Traffic (get found), double your Conversion Rate (be favored), and double your Total Customer Value (Make Fans). Double any of these and you will double your inbound sales (revenue). Accomplish the challenge of doubling all three of these and your inbound sales will be eight times your current inbound sales.
Get Found
Get Favored
Get Fans
The rule of 14.5 and the rule of 26
The rule of 14.5 says, "If you want to grow inbound revenue by 50% per year you need to increase each of the three objectives by 14.5% annually".
The rule of 26 says, "If you want the jaw dropping inbound revenue annual growth of 100% you need to increase each of the three objectives by 26%.
8. Inbound Marketing Key Performance Indicators (KPIs)
There are 19 inbound marketing KPIs that measure the progress of your inbound marketing. Fifteen of the KPIs are tracked in Google Analytics. The other four KPIs should be measured and tracked by you. Here they are:
Number of Website Conversions
Number of Internet Sales
New Internet Revenue
Total Internet Revenue
9. The Inbound Marketing Sales Funnel…or The Customer Journey
The Inbound Marketing Sales Funnel is the story of how a consumer goes from performing a search online to becoming a loyal customer and raving fan. Remember your inbound sales are only as good as your pipeline! If any segment is broken the entire pipeline fails. There are 10 basic segments to the inbound marketing and sales pipeline:
Location(s): The inbound pipeline begins with your service area/geographic reach. Double this and you'll double your inbound sales. Here are a few ways brands can double your brands service area:

Start marketing to existing service locations
Relocate to a market with a better opportunity score
Expand into markets which have a high opportunity score

Products and/or Services: The second step of the inbound pipeline is the products and services your brand offers. Here are a few ways this segment of the pipeline can be improved:

Increase the marketing efforts of existing services
Add products/services which have a high opportunity score

Web Presence: Lots of consumers go straight to the organic results, others go straight to the map, and some go to review sites. Improve this part of the pipeline by being found on all three.
Rankings: Consumers view search results starting at the top and work down. Our SEO Plans will help your brand rank higher for more keywords and phrases.
First Impression & Click Through Rate: If your brand ranks well but doesn't make a good impression or has a poor click through rate – your pipeline stops here. Improve your first impression and click through rate in these ways:

Optimized Titles
Optimized Descriptions
Optimized Permalinks
Percentage of Search Engine Results Page (SERP) Owned
Genuine Reviews
Higher Ratings
More Reviews

Landing Page: The webpage consumers land on when first visiting your site can have a dramatic impact on how consumers view your brand and whether or not they will become a buyer. There are several factors that can improve your landing pages, including:

Site Speed
Site Responsiveness
Design and Feel
Messaging
Awards and/or Recognition
Testimonials
A Simple "Don't Make Me Think" Approach

Pricing Structure/Page: Consumers love pricing pages. Make sure yours is optimized to convert traffic to customers. Here are a few things that should be implemented in an optimized pricing structure:

Transparent
Defined
Simple
Flexible (Offer Multiple Packages)
A Simple Don't Make Me Think Approach

Sign Up Process: An optimized sign up process isn't a process. Do everything in your power to make the consumers transition from wanting to buy to being a customer instant and frictionless. Here are a few things to keep in mind:

Use Calls To Action
Simple Sign Up Buttons
Sign Up Pages Should State It's Quick, Easy, and Risk-Free
Sign Up Forms Should Be Crazy Short and Simple
Consider That Some Consumers Still Prefer To Make A Phone Call (if this is the case in your industry you better have the best possible closer taking the calls, and remember a busy signal or voicemail is a big turnoff to some consumers)

Total Customer Value (TCV): Total Customer Value is often overlooked because it isn't actually part of the sales pipeline. It is, however, part of the customer journey and the most important of the nine-part journey. It's safe to bet on companies that win customers for life over companies that struggle to win loyalty. Companies should obsess over winning customers for life and having the industry's best TCV. Entire books are written on this concept and its benefits. If you are not completely sold on this concept, you may benefit from reading the first few chapters of Exceptional Service Exceptional Profit by Leonardo Inghilleri and Micah Solomon. There are three basic ways to win loyal customers:

Target Consumers That Are Likely To Be Loyal
Provide An Exceptional Experience and Customer Service
Ask For and Respond to Feedback and Reviews

It's also worth noting that inbound customers help your TCV in at least four ways:

Willing To Pay More: Inbound customers don't need to be lured in with promotions or deep discounts. They're already in the market. They want a really good product or service to fill their need more than a deep discount. They're also more likely to buy additional products or services.
Willing To Pay Longer: Inbound customers are more likely to become lifelong customers.
More Likely To Come Back: When you remarket to previous customers, inbound customers are more likely to come back.
More Likely To Become Fans: Inbound customers give higher ratings and better reviews.
10. What You 
Should Not Do
NAPUC Changes: Do everything in your power to not change the NAPUC of your business. This is especially true for your local profiles, like Google Maps/Google+/Google My Business. Changing any of these may result in being put in the back of the line for local results for several months.

You can, however, respond to Google reviews within or add photos to your Google Business Profile.

NAPUC stands for:

Name (Business Name)
Address (Business Address)
Phone Number (Business Phone Number)
URL (Business Website URL)
Category/ies (Business Category/ies)

Canonical Domain: Never change your canonical domain. This means no going from a www. domain to a naked (non www.) domain or vice versa. You can read more about why here.
Permalinks: Do everything in your power to not change the url's or permalinks of the pages or posts on your company website. This means you need to be smart when choosing your permalinks!
Adwords: Do not run Adwords Campaigns with default settings. Campaigns should be set up to gather valuable data (keyword and location data), A/B test click through rates, and identify search phrases and Ads that provide good returns on investment.
11. What You 
Need To Do
Begin Tracking Your Key Performance Indicators (KPIs): Good data is crucial. Be sure to track #of website conversions, # of new inbound sales, new inbound revenue, and total inbound revenue.
Build, Enhance, and Share

VALUABLE

Content: Build web pages with high-quality content about each of your products/services. Write blog posts each time your company has news (e.g. a promotion, an event, a new location, a new service etc.). Each time you create a new page or post share the webpage/post on your social media profiles. Review and enhance your pages at least annually and share the revised page/post on your social media profiles again.
Ask For High-Quality GENUINE Google Reviews: Do not underestimate the importance of building a strong online reputation. This can make or break your inbound success. Be sure to follow Google's guidelines for getting reviews. You need the very best reputation in your market and that means you need to be the best.
Respond To Google Reviews: After you've received a Google review be sure to respond to it via your Google Business Profile Dashboard. REMEMBER DO NOT MAKE ANY EDITS OUTSIDE OF RESPONGIND TO REVIEWS
Add Photos To Your Google Profile: Add photos to your Google Business Profile including, a profile image, cover photo, logo, and photos taken both of or at your business location.
Get Featured: Getting featured in popular industry specific, national or local media helps build authority and can get a temporary boost in referral traffic. People trust brands that have been featured by big names.
Consider Local or Industry Specific Paid Directories: Some paid directories can help build a quality web presence and help you become more of an authority in the market. You may consider local directories (e.g. BBB or The Chamber of Commerce) or industry specific directories (e.g. regional or national industry-specific associations). Not all directories are good, learn more about Good Directories vs. Bad Directories »
"Share And Save" Promotions: This is smart for any business but especially important for businesses with a low viral factor. Share and Save Promotions work very well and are simple. Just offer a promotion on a specific service to those who share the page about that service (often the homepage).
Consider Upgrading Your High-Performance WordPress Theme: Search engines love blazing fast responsive websites. And people love them too! Switching to a high-performance WordPress theme does wonders for both ranking and conversion. It is well worth the investment!
Run A/B Tests: A/B testing is another way to quickly increase your conversion rate. Can you increase your inbound sales by 30% or more in less than one month by running an A/B test? You bet!
Adwords & Remarketing: Organic search (and local search for local businesses) results in the best ROI of inbound avenues, but as your marketing budget expands consider the less profitable inbound avenues of sponsored ads and remarketing.
********THE FOLLOWING 3 SECTIONS ARE ADDRESSED TO CLIENTS*********
12. What Clients of Solid Stratagems Receive
When you sign up for an Inbound Marketing Plan you become a client. It's obvious on the Inbound Marketing Plans page that you get several features with your plan (keyword research, competitor analysis, analytics reports, organic search optimization, local search optimization, local search optimization etc.), but as a client, you get additional benefits that are very valuable:
A Full-Service Digital Marketing Agency: From hosting to backend development, to on-site optimizations, to off-site optimizations, to Adwords campaigns, to conversion rate optimization – Solid Stratagems is built to bring the entire inbound and digital marketing experience under one roof.
Tomorrow's Strategy: The World Wide Web, inbound marketing, and search algorithms are ever evolving. The good news is Solid Stratagems and our inbound marketing strategy isn't the one that worked last year.
Knowledge: As a client, you have an experienced, knowledgeable and committed consultant (experience predating Google's hiding PageRank).
Time: Keeping up to date with all things search (Backend Optimization, On-Site Technical Optimization, Local Media Optimization, Off-Site Optimization, Social Signals, Conversion Rate Optimization, User Behavior Signals, Paid Advertising, Hosting, etc) is a full-time job.
Savings: As a client, you save hundreds of dollars a month in software and tools.
13. Expectations For Search Engine Rankings
Organic Results: As a general rule, companies should expect organic search rankings and search impressions to climb surely but slowly (companies with lots of existing ranking potential but poor optimization will see quicker results).
Local Results: As a general rule, companies should expect to have little to no increase in map results the first 12 months and then a big jump soon after 12 months (companies in markets with weak competition can and have seen good results sooner).
Paid Ads (An Add-On): Paid Ads or Sponsered Ads work immediately but the algorithm is based on what will make search engines the most money over time:

Relevance/Quality Score: Search engines can't afford to display irrelevant or poor quality pages.
Budget/Settings: If you've hit your budget or have campaign settings to display Ads over there may be a period when your ad doesn't show up.
Bid Limit: Combined with your chance of being clicked on this decides how much search engines will get paid.
Click Through Rate: Ads with higher click through rates can show up higher even with lower bids.
User Behavior & Ad Rotation: Google likes to rotate ads for users to increase the chance of a click.
14. Instructions on Items We Need From You
To best optimize your brand's web presence, gather crucial data and build monthly reports – Solid Stratagems requests access to the following:
Google Analytics: Solid Stratagems needs full permissions to your Google Analytics account. Solid Stratagems also recommends that businesses should always retain ownership of their Google Analytics account as the data collected can be a tremendous asset. Please add

[email protected]

as a user with full permissions using Google's instructions to add Google Analytics users. Also, please let Solid Stratagems know if you do not have a Google Analytics account.
Google My Business: Solid Stratagems (

[email protected]

) should be given manager access to your Google Business profile. This can be done by following Google's instructions to add managers to your Google Business listing.
WordPress: If your website is running WordPress please create a new user with the username 'Andrew' and the email '

[email protected]

'. Please be sure to grant full admin permissions for this user. Also, please be sure to select to have the username and password sent to the new user.
15. Stay Connected With Solid Stratagems
Use these links to connect with Solid Stratagems on every social network you belong: