Main Content
Digital Marketing for Multi-Location Brands
Multi-location businesses and franchises need scalable marketing strategies without sacrificing the precision, results and optimization of hyper-local marketing.
The Inbound Advantage
Local businesses enjoy many benefits from inbound marketing. Here are a few of our favorites.
Benefit From The Competition
When you focus on inbound marketing you'll find you get a boost of website traffic from the competition's outbound advertising campaigns!
The Best Marketing ROI
Marketing to those who are ready and willing to buy yields a much higher return on marketing dollars. Inbound should be the #1 marketing priority.
The "Salescomputer" Benefit
An investment in inbound marketing is like investing in a "salescomputer" that gets smarter and smarter, works 24/7, and never complains or quits.
A Stronger Brand and Culture 
Customers that come via inbound marketing are happier customers, give better reviews, help build a stronger brand, and increase employee morale.
Higher Customer Value
Inbound customers have a higher value than outbound customers, they don't need to be lured in by deep discounts and have higher retention rates.
Great Returns In Any Economy
Not only does inbound marketing perform great in a good economy but the returns can even be better during an under-performing economy.
The Evolution of Search Algorithms
The algorithms of tomorrow will reward brands that provide the best user experience.
2000
Stage 1:
Relevance
There was a time when content was scarce. If you had a webpage relevant to a search term it could rank quite well.
2004
Stage 2:
Trust
Google's PageRank changed the game and allowed the most trusted relevant web pages to rank higher in SERPS.
2008
Stage 3:
Popularity
Many began trying to game the system via link building but social media allowed the masses to "vote" on content.
2011
Stage 4:
Responsiveness
Smartphones are pocket-sized search engines and quickly became a common method for searching the internet.
2014
Stage 5:
Speed
Nobody likes slow websites! Search engines know this and have been very transparent about the need for fast websites.
2017
Stage 6:
UX
The algorithms of tomorrow will reward brands and websites that provide the best possible user experience.
The Brands That Search Engines Consider Authorities Get Rewarded
Consistence + Quality + Time = Authority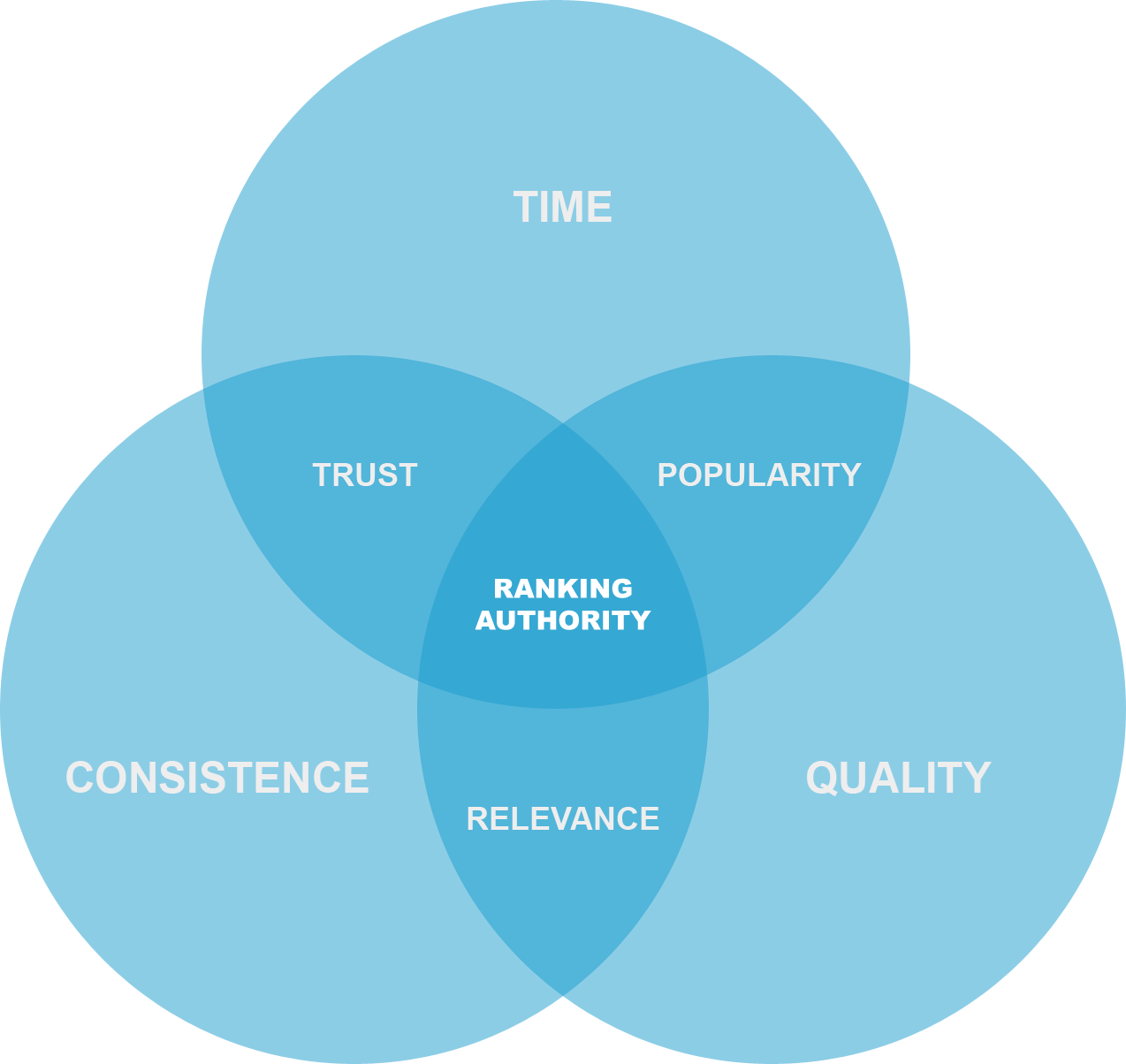 + Consistence
A brand that enhances and updates their web presence quarterly will have a higher consistency grade then brands that do so annually.
+ Quality
Brands that obsess over engagement, user experience, and Google's guidelines will have a higher quality score than brands that show less concern.
+ Time
Brands that have been consistently providing the highest quality for years will stay ahead of the wave of brands that have smaller track records of quality.