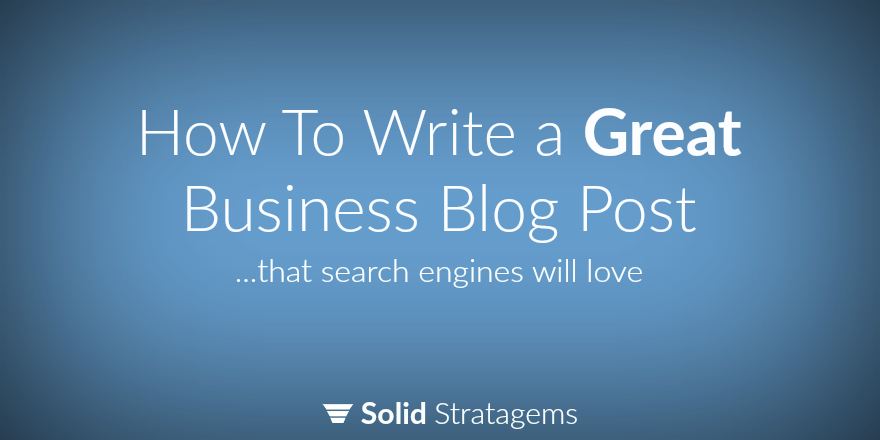 What This Guide Will Give You: This step by step guide will give you the best tips, tools, and resources to write a great business blog post using WordPress.
Important Facts: Most posts don't get found. Most posts that get found don't get clicked. Most posts that get clicked don't get read. And most posts that get read don't get shared or create subscribers. The 1% of businesses that write great posts – they do get found, clicked, read, shared, and subscribers. And that last word 'subscribers' that's a very powerful thing to your business. That's how you should measure the success of your business blogging. Rankings, visits, and even shares don't mean anything if they don't lead to followers, fans, and subscribers.
Why not measure success by buyers?
If your business blogging goal is to convert readers to buyers, you're doing it wrong. Nobody wants to read (or share) self-promoting blog posts. People ignore self-promotion and advertising more than ever. The key is to give your intended audience SOMETHING TRULY VALUABLE EVERY TIME. Fail at this and you'll be ignored, succeed and you'll make fans. And when your fans need your product/service they'll come straight to you.
Contents of This Guide:
Define Your Target Audience
The Prerequisite To Blogging Success: Connect and Engage With Your Target Audience (and Key Influencers)
How To Choose The Hands Down Best Possible Topic
The B2C vs. The B2B Blog Post Types
Write To Speak To Your Target Audience
The Trick To Quickly Creating An Optimized Title Tag/Permalink
How To Create A Description Tag Better Than The Rest
Your Main Heading and Intro Better Do This
How To Create An Outline/Layout Better Than The Rest
Conclude By Asking For Engagement… You've Earned it!
Add Images
Publish, View, and Share
#1 The Benefit of An Ultra Defined Audience
The smaller, more specific, and more defined your target audience, the better. You CANNOT overdo this! Trying to be everything to everyone is the quickest path to blogging failure.
You want to be the biggest fish in a small pond, even if it's a very small pond.
Quick Tip: A super focused target audience allows you to boost your posts (make it a sponsored post) on different social media networks for just a few dollars. This allows you to get your content in front of 10,000 ideal clients many times instead of millions of people just once.
#2 The Prerequisite To Blogging Success: Connect and Engage With Your Target Audience (and Key Influencers)
Karma is a very real thing for bloggers. If you read, like, and share others content, then others will read, like and share yours. Before you begin sharing the awesome blog posts you've written – spend several weeks connecting with your target audience and read, like and share their awesome content.
Smart Tip: Focus connecting with and engaging with key influencers in your industry. The reward of having an influencer share your content is MUCH greater than any random share (and much greater than boosting a post). Be smart and do the following:
Identify Key Influencers
Connect With Key Influencers On Social Media or Subscribe To Their Blog/Newsletter
Read Everything They Publish
If You Like What They Wrote – Like It on Social Media
If You Can Add An Insightful Comment – Do It
If It's of Value To Your Connections – Share It
Be persistent and don't give up. It will take time, but you'll begin to get noticed by smaller influencers and eventually biggers ones. With time, this can pay off MUCH more than engaging with non-influencers.
Smart Tip #2: Be genuine with your engagement with others whether influencers or not. Engaging with others should not be something that is automated or outsourced. You ought to value building genuine relationships in your industry. Be a great friend to each. It will come back to you.
#3 Choose A Topic That Has Undeniable Value
Recreational bloggers can write about whatever they'd like. Business bloggers should be more strategic about topics. The best priorities for topics are: First, topics that benefit existing customers/clients. Second, topics that benefit your target audience. Last, topics that can feature industry influencers.
Here's a list of effective topics. Prioritized from most to least important.
Build high-value cornerstone content for your buyers/clients
Answer a question a buyer/client has
Share a case study about a buyer/client
Share original and intriguing research that will help your buyers/clients
Update a reference post that needs to be kept up to date for your buyers/clients
Write a post that will supplement an existing post
Update a previously popular post
Write a roundup featuring posts from industry influencers
Interview one or several influencers
Review a product/service of an industry influencer
#4 The Best Post Types For B2C and B2B Businesses
Not all types of blog posts work equally as well for B2C and B2b businesses. Likewise, not all emotional reactions are appropriate for both audiences. Here's the breakdown of the types of posts and emotional reactions that generally work best for B2C and B2B.
Best Types of Posts (Types of Posts B2B Should Usually Focus on Are Marked With An*)
Comprehensive Guides*
Short How To Guides*
Tips*
Interviews*
Regularly Updated References*
Case Studies*
Original Research and Data*
Lists
Resources
Reviews/Comparisons
Opinions
Warnings
Roundups
Quizzes
Predictions (Not Evergreen)
News (Not Evergreen)
Press Release (Not Evergreen)
Quick Tip: Make time work for you, not against you! If you create content that is evergreen your library of shareable branded content will grow over time. On the other hand, if you create a lot of content that is not evergreen (news posts, predictions and press releases) your library of content is always slowly evaporating.
Best Types of Emotional Reactions (Reactions B2B Should Usually Focus on Are Marked With An*)
Shocking*
Inspiring*
Intriguing*
Revealing*
Helpful*
Useful*
Frightening
Trendy
Stunning
Adorable
Hilarious
Controversial
Tip: To give your post the best chance of being shared and going viral the reaction must be strong. E.g. incredibly helpful, incredibly shocking, incredibly intriguing etc.
#5 Write  To Speak To Your Target Audience
Public speaking can be intimidating but makes losing sight of your audience very hard.
Business bloggers, on the other hand, can sometimes (even easily) lose sight of or even be unaware of who their audience is. To write a great business blog post you need to know EXACTLY who you're writing to. And you should write as if you're talking to them.
Tip: Personally I find it very easy to lose sight of my audience when blogging. However, when I prepare a presentation for a specific audience, it's VERY HARD to create a presentation that isn't perfectly directed to them. For this reason, I recommend you actually prepare a presentation directed to a specific individual or group of individuals (not a specific type of person/people but a person/people you actually know). I recommend you try jotting down your presentation on pen and paper and then convert the presentation to a blog post.
If it sounds like writing, I rewrite it. – Elmore Leonard
#6 The Trick To Quickly Brainstorming and Identifying An Optimized Title Tag (& Permalink)
Do you want to put a bunch of work into an awesome post that gets shared on social media and then is lost forever?
Neither do I.
Two things are required to get inbound search traffic to your post. First, your post needs to rank near the top of the search results. Second, your title needs to be the best title on the page. Your title is the most important words you will write by far. It's also the trickiest because you have to balance three things in a title:
Search Engine Optimization: Search engines rankings will be impacted by your title tag more than any other part of your post. Your title must be optimized for search. A title like "The Unknown Step By Step Formula For Writing Great Posts" sounds nice but isn't optimized for search because people don't tend to search for unknown step by step formulas.
Click Through Rate Optimization: Not only is the title the most important part of your search engine optimization, it's also by far what determines whether your post gets clicked on or not.
Title Length: Writing a search optimized title tag isn't tough. Writing a title tag that's optimized for both search engines and click through rate is much tougher. To add to the conundrum, you've got to keep your title to less than 60 characters to ensure the entire title shows up in the search results.
So, what's the solution?
The Quickest Way To Write A Title That's Optimized For Both Search and Clicks
I know you don't want to waste TOO MUCH TIME brainstorming and trying to come up with titles that fit the above criteria. Here's what you can do. Open up a window in Google and start typing in the topic you want your post to be optimized for. You'll notice Google begins to give search suggestions after a few characters. This is called Google Suggest. Keep trying several searches and see what Google suggests. What you're looking for is a long specific suggestion. This is called a long tail search. When you've found a suggested search that is both long and specific you've a good potential title. Here's why:
Suggested searches get more traffic than phrases that don't pop up as suggestions.
Long specific searches are much easier to rank well for. How many posts are written about "How to write a blog post"? Tons. How many posts are written about "How to write an amazing first WordPress post"? Much fewer.
Titles that are very specific HAVE MUCH HIGHER CLICK THROUGH RATES than general titles. People who search "how to grow a dwarf avocado tree inside your home" are very likely to click on a post with that very title.
I wanted to title this page "The Unkown Formula For Writing A Post That Gets Clicked and Shared". I thought it was catchy and would get a higher click through rate on social media. DO NOT THINK LIKE I DID. You're a business blogger. You're not in the click-bait business. You want inbound search traffic. Lucky for me I decided to jump on Google and brianstormed 10+ ideas by typing in several potential searches. I knew right when I had my title.
"How To Write A Great Business Blog Post"
Long Tail.
Specific.
And 39 characters.
Tip: Use your title tag or an abbreviated form of it for your permalink!
#7 Your Main Heading and Intro Better Do This
Readers will give you one chance to hook them with a good heading. Fail at this and the reader is gone. So your heading needs to hook the reader and convince them to read at least one more line – your intro. Introductions are your chance to reinforce the value and benefits of your post. Quickly point out the promised value of your post in the intro. Then use the body to provide that value.
#8 The Problem With Most Blog Outlines, Headings, and Content
The real problem with outlines, headings, and content is that they don't engage the reader. If it's not engaging, it does not get read (or liked, shared etc.).
What to do about it?
Create outlines for your posts that are broken up into small, simple, and clear bite-sized subsections.
Write headings for your subsections that are engaging and keep the reader's interest.
Keep your paragraphs, sentences and even words short and sweet.
#9 The Conclusion Is Your Chance For A Call To Action – Don't Waste It
The conclusion is your opportunity to add a call to action. Depending on your goals there are several things you may invite your reader to do:
Comment and add their thoughts
Read a related post
Share it with others
Follow you or your company
Sign up for a newsletter
Try your product or service
No matter your goal of the post asking or inviting them to do what you hope they will – always raises the conversion rate of said goal.
#10 Add Images (With Title Attributes and Alt Text)
Data shows that posts with images and visuals outperform posts that don't. I have a ways to go with images but have found Kevan Lee's post of 23 tools and resources for social media images helpful.
Quick Tip: I like to be able to use the images I create for both blogging and social media. To do this you want to be sure to make your original image wide enough for your blog (880 px in my case) and at a width x height ratio that matches your target social network (2 x 1 works perfectly for LinkedIn and Google+, and nearly perfect for Facebook). This means my images are made at an original size of 880 x 440 and can quickly be used on the blog, LinkedIn, Google+ and Facebook.
#11 Double Check Your Permalink, Then Publish and Share (and Then Share Again … Oh and of Course Then Update Again and Again – Sharing Each Time)
I've made the mistake of publishing (and even sharing) posts with the wrong permalink. Double check your permalink before posting, it's the one thing you don't want to ever edit after publishing!
Share your post on your company social media profiles. Then, if applicable to your personal audience, like and share your company update on your personal social media profiles.
Quick Tip: You only want to send your post to your subscribers once, but social media is a different story. The great majority of your social media followers won't see your post if it's shared only once. Try sharing it once when you publish, again later that evening and then once more on the weekend. This will allow you to get impressions from a variety of followers.
Bonus: The Solid Stratagems Publishing Process
Here's the exact process/checklist Solid Stratagems uses to publish high-value content.
Step #1 Submit The Big Three for Approval
Whether or not you are part of team Solid Stratagems or a guest blogger; if you want something published on our blog it starts with getting three things approved.
Purpose: In as few words as possible define the problem of which you will find or create the best possible solution.
Title/Headline: With the most clarity possible, provide a list of ten possible titles and/or headlines that describe the exact purpose and value of your research/solution. Shorter is better but don't sacrifice a perfect description for the sake of brevity.
Outline: Provide the possible outline and any possible alternative outlines that will most clearly and efficiently allow readers to find the value you've promised.
Step #2 Submit The Big 10 for Approval
Roll Up Your Sleeves, Go to Work Researching, Find the Top 8 Authorities on the Topic, and Make The Top 10 Items of Your Post Ten Times Better Than The Next Best (By Standing On the Shoulders of The Very Best)
We understand that a published piece of content may become the first interaction a person or brand has with our company. We do not accept a second-best post because we will not give a second best introduction. Furthermore, we're not satisfied with being the best. We want the first impression to be a lasting one. It must be a one in a million introduction. Our formula for being a one in a million is simple but not easy. We find and analyze the top 10 posts on our selected topic.What do we analyze?
What do we analyze?
Topic
Permalinks
Title Tags
Description Tages
Headings/Blog Post Titles
Featured Images
Social Proof
Introductions
Outlines
Conclusions/Calls To Action
Here are the simple ten steps to making sure you have the best of all of the above.
Create a spreadsheet with the above items listed down the first column.
In the second column fill in what you think (before doing any research or looking into the topic) would be the ideal permalink, title tag, description tag, heading etc. etc.
Google your topic using the least non-long-tail search phrase possible (so as to get the most authoritative results). Look at the results and click on whichever entices you the most. Take a brief look at the heading, featured image, outline, and conclusion. Decide if it's a winner or not. If it's something you that drove you to click on it, then drove you to read it – it's a keeper. Continue until you find a keeper. Add your search phrase to your spreadsheet in column three row one. Add the url to column three row two (so you can easily see the permalink and come back if desired). Continue to analyze the post for the above ten criteria – filling in each row that you is worth noting. Note: if the author of the post omitted one of the above or was unremarkable on any of the ten items just add a dash.
Visit additional results from your search until you've found a total of four posts that are remarkable in some way and use a new column fill in the ten items.
Now go to BuzzSumo.com and do the same search but this time only use the top four most shared posts. Fill in the data. Now you have ten columns of titles, intros, outlines, etc. One from your own best guess. Five from your Google search. And four from your BuzzSumo search.
Make the tenth column. This time you are going to fill in what you NOW – after getting a bit dirtier – know will be a better title, intro, outline, etc. than any other post. When you're done with this column, you won't just have the best title ever – each part of your post will be the best.
Submit the big ten for approval.
Step #3 Write and Submit Your Post For Approval
Now it's time to roll up your sleeves and perform any research and/or analysis so that you can support your brilliant outline with supporting content/data.
When the post is finished submit it for approval.
Step #4 Make Requested Edits and Get Published
Understand the value of an editor. Yes, this includes the value of having your perfect little piece of work getting torn apart with critiques. An editor that doesn't edit? That's an oxymoron if ever I saw one.
Submit the edits and get your post published.
Step #5 Share and Engage … again and again
Share and share, again and again. Update as often as needed sharing each time. Update it a little even if it's not needed (but the date isn't looking fresh) and share again. You created a one in a million post. Don't let it get buried and forgotten! Share it!
Engage with others on social media. You've done all this work to get found. Once you've been found don't put others on hold. Make sure you respond to both good and bad input on social media.
Respond to conversions: If your content is just for you and your brand it doesn't need to be published. If it's only for your followers and fans – email newsletters will get seen at far higher rates than blog posts and social media posts. But if your content is also meant to be found by those searching for your solutions or offerings – your website better make it very easy for them to convert to a lead – and you should respond your very next available business minute.
If you follow the steps above for any length of time you will be rewarded plentifully by both search engines and by your followers and fans.
The Rules Are Always Changing
The rules of blogging success are always changing, but that just adds to the fun, right? We'll be updating this as we test the latest practices of the best business bloggers. And we'd love for you to connect with us so we can hear about your blogging success!