The average checkout page has roughly a 2/3 abandonment rate. Yes, that means only one in three people who have already decided to make a purchase follow through. There may be several reasons buyers leave the checkout page, and I'm not saying the goal should be 100% conversion rate. But many websites have below average conversions on their checkout or signup forms/pages – and that means there is money left on the table.
Here are a few things to remember:
Check out pages are not pricing pages: This means you don't need to explain how the pricing of your products and services works. That was already taken care of on your super transparent pricing page!
Less is better: Again, a checkout page is simply that so don't add anything you don't need in order to collect the payment.
Keep it above the fold: Be serious about your 'less is more' approach and keep the entire form to one simple above the fold screen (for desktop).
Mobile/touch optimized: If your form is not optimized for mobile, there's a REALLY good chance your mobile abandonment rate is atrocious. Use drop down and buttons rather than asking mobile users to type.
Left Aligned Drop Downs and Buttons: Try to keep the drop downs and other touch features aligned to the left of the screen. This makes it much easier for mobile users to tap the needed selections.
Install Analytics: Be sure to create a success page and install analytics to your checkout and success pages so that you can track your optimization efforts.
Let's Take a Look at a Form That Has Some Great Opportunities To Improve Conversion Rates
Take a look at this screenshot from a haunted attraction/event, Panic Point. What do you see can be improved?

The form in the above image actually requires six screenshots from my laptop to view the entire form – and that doesn't include the payment information that populates after you've selected your package. Using some of the tips above, let's see if we can create a mobile-optimized form that fits on one screen.
---
---
↓ SAMPLE IMAGE  ↓
---
---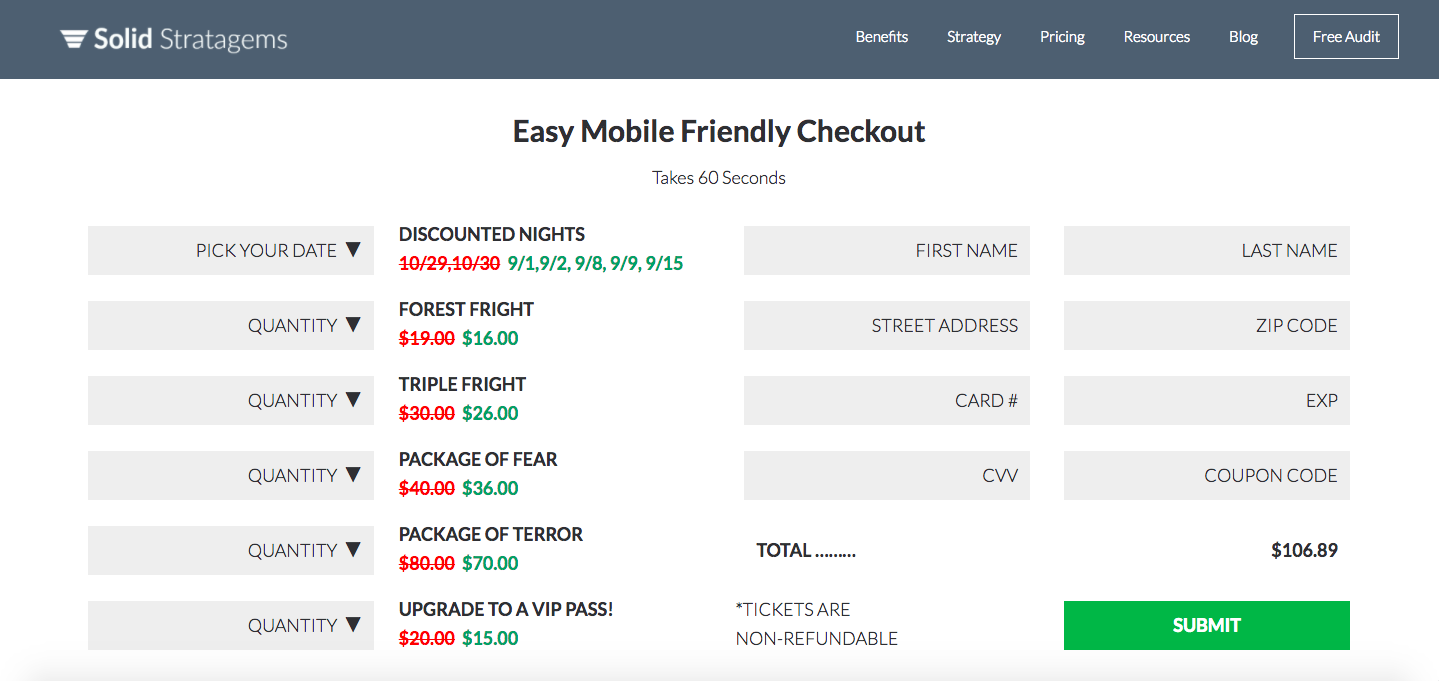 ---
---
↓ DESKTOP HTML  ↓
---
---
Easy Mobile Friendly Checkout
Takes 60 Seconds
DISCOUNTED NIGHTS
10/29,10/30  9/1,9/2, 9/8, 9/9, 9/15, 9/16, 9/22
FOREST FRIGHT
$19.00  $16.00
TRIPLE FRIGHT
$30.00  $26.00
PACKAGE OF FEAR
$40.00  $36.00
PACKAGE OF TERROR
$80.00  $70.00
UPGRADE MY TICKETS TO A VIP PASS!
$20.00  $15.00
*TICKETS ARE
NON-REFUNDABLE
---
---
SAMPLE ENDS
---
---
Your Turn
What do you see in the improved form that can be even more optimized? Better yet, take a look at your forms, what can be improved there? Happy optimizing!